Foam for Caravans and Boats
Whilst it is possible to order standard foam shapes for caravans, motorhomes and boats on-line, we tend to find that the majority are special shapes.
In such cases it is better if you post us paper templates of the shapes required (stuck together newspaper is fine) or even the old covers so that we can ensure that your new foam is a perfect fit. We can cut foam all sorts of shapes, you can see in the pictures some pieces that have been cut so that they fit against the hull of a boat, even with angles on the side!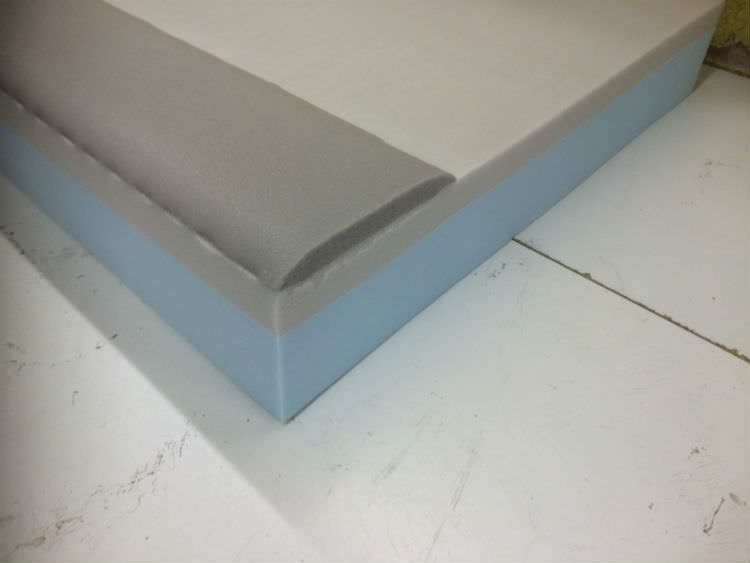 Knee rolls. A knee roll is a raised section on the front edge of a cushion. They are used predominantly in caravans but we do also find them in some boat cushions. They tend to be about 6"/150mm wide and about 1"/25mm tall and will have a rounded profile.
Just what is the purpose of the knee roll on a caravan cushion you may ask yourself? The idea is that the cushion gives you more support just above the knee joint whilst you are in a sitting position.
However if you have to make those cushions in to a bed to sleep on then you curse the knee roll as it always seems to be in the most inconvenient part of the bed.
You have to ask yourself, do you really need the knee roll? If your existing cushions have a knee roll and you are going to just replace the foam inners then, unless you are going to have the covers altered you will have to continue with a knee roll on the foam. If however you are designing and making cushion covers from new then you may well prefer to have flat cushions as these will also make in to a nice flat bed at night.
Are they then just a fad? Yes and no, certainly they do give more support but we manage to sit on many other types of seat without the need for a knee roll, so we'd recommend that if your cushions also have to make in to a bed then just choose flat cushions.
Which foam is best for use in a caravan, motorhome or boat?
Our medium foam is ideal for most applications, it will make for a good firm supportive seat at 3" deep and above (the most popular depths we supply this foam at are 3", 4" & 5"). However if your cushions have to make in to a bed the medium grade will make a very firm mattress. Recommended for firm seating for average holiday use.
Our high/firm foam has the same degree of firmness as the medium/firm described above, so is ideal for seat cushions 3" deep and above (the most popular depths we supply this foam at are 3", 4" & 5"), but being a higher quality foam it would last longer than the medium/firm foam or would be better for heavier use. Recommended for firm seats for average to high use.
Our medium/soft foam is ideal for is ideal for general use mattresses at depths of 3" and above (the most popular depths we supply are 3", 4", 5" & 6"). It has a softer feel compared to the firm grades but we would not recommend it for base seating cushions at depths less than 5".
Our RX Flex grade is a luxury soft feel foam. Ideal for people who do not want such a firm seat as the firm grades provide, it also makes a luxury feel mattress. We would suggest that depths of 5" thick or more will give the best results.
We have a caravan ourselves and hence have experienced the problem with cushions that whilst being fine for sitting on do make for a very firm bed. Can any cushion be good for two different applications? From our own experience we have produced a laminated foam that does give you the best of both worlds. This foam is made up from 2/3 of our high/firm seating foam with 1/3 of our luxury RX Flex foam bonded to the top of it.
The recommended depths to achieve the best results are 3", 4", 5" & 6").The resulting effect is that when the cushions are used for seating they still give good support due to the high/firm base cushion foam but when you turn the cushions in to a bed the RX Flex built in topper gives you the feel of a luxury mattress. There is no need for a separate overlay (which you would have to store somewhere during the day). We have supplied this grade of foam to many customers over recent years and here is just one of the comments we have received ;-
"In February you made laminated foam cushions for my boat (5 pieces). Just to let you know the boat has now sailed to sunnier climes, (Lanzarote) Having spent some time on the boat I can say the cushions that you made and supplied are superbly comfortable and exactly as required, many thanks."