Replacing Feather or Fibre Filled Cushions with Foam
You can order your cushions online or over the phone and we have put below some hints and tips about measuring your cushion covers.
For today's large sofa cushion please also read our article about how best to achieve that puffed up cushion look. Replacing Sofa Cushions.
Or you can take advantage of our Free Cushion Filling Service and post your covers to us:
Jordans (Leamington Spa) llp,
14 High St,
Leamington Spa,
CV31 3AN
If you post us your covers we will phone you the day your covers arrive with us to let you know we have received them and then the following day will provide you with a no obligation quote. We will do all the measuring and if our quote is acceptable we will then put the new foam in to your covers and deliver the finished cushions back to you. If our quote is more than you want to spend, we return your covers without any cost, obligation or sales pressure.
Fibre filled & Feather filled cushions can have a short life in the modern home. Constant puffing up of the cushions is a chore many people would like to avoid, yet they would still like to retain the look of the puffed up cushion rather than the 'block' look of a standard foam cushion.
We manufacture cushions to fulfil that criteria. High density foam cores with soft fibre wraps achieve the puffed up cushion look and ensure cushions rapidly return to their original shape. Measuring the covers when replacing feather & Fibre Filled Cushions with foam and polyfibre wraps can be notoriously difficult. Rather than just placing an order on-line we suggest that to ensure that the new inners are a perfect fit in your covers it is a good idea to post us an empty cover (by either Recorded Delivery or Royal Mail Special Delivery).
Upon receipt we will contact you with a quote for the various grades and our recommendations. If acceptable to you we can process your order over the phone (01926) 832775. If you prefer not to go ahead with the job we return the cover(s) to you immediately without any obligation or sales pressure.
If you would rather not post us your covers; below is a step by step guide from the measuring of a cover to the fitting of the new inner. We hope this will help you when measuring your own covers, choosing the most suitable grade of foam for yourself and to understand how the new inners are made.
As already mentioned today's larger sofa cushions often require 'extra doming', therefore when you measure the side border of your cushion cover you will need to add an inch/2.5cm to the depth of foam that you are ordering and you need to choose the 'extra doming' option in the 'extras' section of our ordering page. If you have any doubts or questions please call us (01926) 832775 for advice.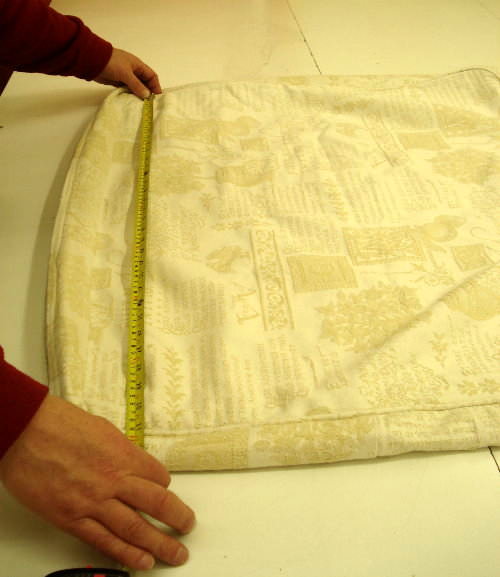 First of all measure the empty cover, do not stretch the cover too much, just lay it flat and measure between the seams or piping.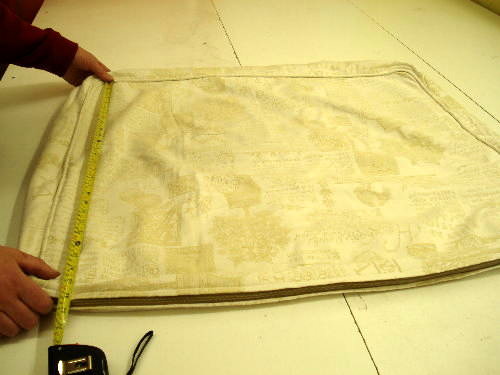 Also measure the front to back measurement of the empty cover, again do not stretch the cover too much, just basically lay it flat and measure between the seams or piping.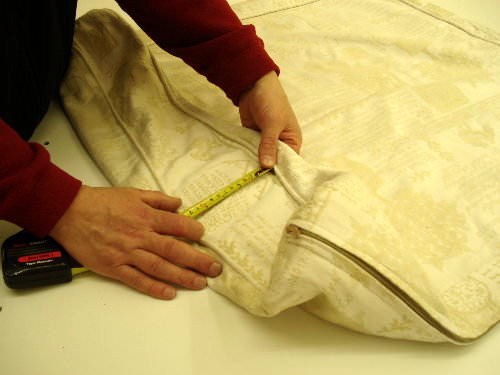 Measure the height of the cover between the seams or piping. This is most crucial, despite metrification most cushions are still produced in imperial sizes. By far the most popular depth of border for sofa/armchair cushions is either 4" or 5".
When taking this measurement give the cover a little stretch, if it is not 4" or 5" please give us a call (01926) 832775.
Many people make the mistake at this point of having taken the depth to be the height of their cushion with it's original filling still in place, working from the empty cover is most important.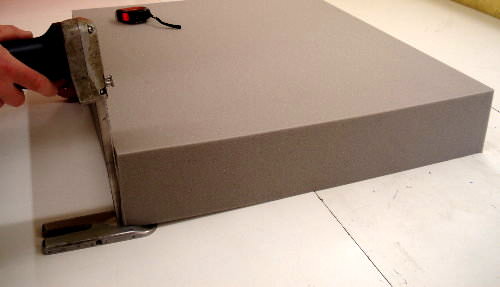 We then cut the foam at the sizes given by measuring as above. The grade of foam will depend on the hardness or softness you prefer the cushion to have.
The most popular grade when replacing feather or fibre filled cushions is our RX Flex grade as it allows you to still sink into the cushion but springs back to full height as soon as you get off the cushion.
Also quite popular for people who prefer a firm cushion are our medium and high/firm foams. The medium foam is a 33 kilo density foam whereas the high/firm is a 40 kilo density foam.
Both foams will initially feel practically identical but the high/firm is a higher density foam and will last longer in any given situation compared to the medium/firm.
We then cover the foam with a heavyweight (14oz) polyfibre. When ordering on-line you need to choose the 14oz polyfibre wrap option from the Extras column.
This polyfibre is about 1.5"/4cm thick and hence will make the finished new inner look bigger than the empty cover. DON'T PANIC, it will fit in the cover.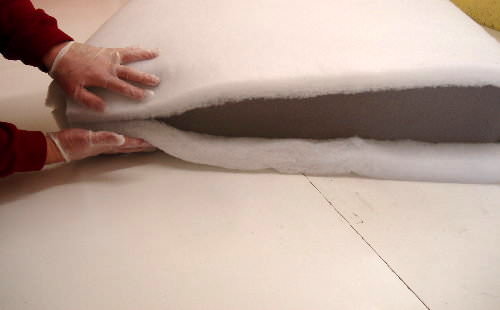 The polyfibre is glued onto the foam and the edges are sealed. You can see from this picture how much the polyfibre increases the size of the cushion, this is why it is important not to stretch the covers when measuring them.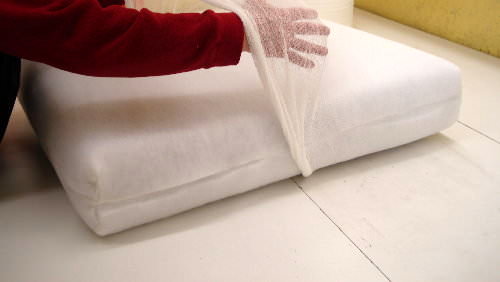 A stockinette cover is the stretched over the cushion. We will fit stockinette covers where possible. Basically they will stretch to fit practically any sofa or chair cushion but they will not stretch to fit say a double bed size. The stockinettes are fitted automatically free of charge when ordering the polyfibre wrap.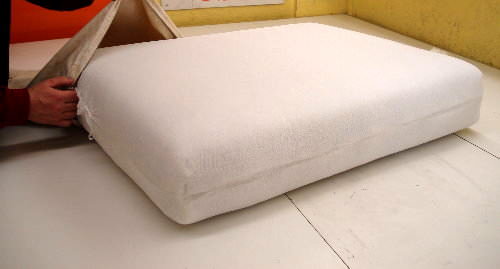 These days we always use some upholsterer's silk film to fit your cushions if you have posted us your covers. if you have not posted us covers just ask for some film when you place your order - it is only £3 per cushion and you can fit your cushions easily with a normal vacuum cleaner, Click here to see just how easy it can be.
Alternatively if you don't have any silk film you can fit your new cushion the old fashioned way (see our video of this being done). We always think that this is one of the games they should have had on the Generation Game! In practically all cases you will have to bend the foam in half to get it into the cover. Slowly working the new cushion in a few inches each side at a time is the key to success.
If you have posted us your covers we will have fitted them for you..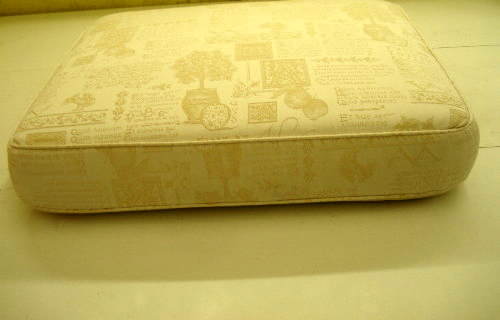 The new foam cushion in the cover probably looks better than when it was new. The heavyweight polyfibre wrap gives the cushion that rounded, domed look and yet the foam core means goodbye to having to puff the cushions up.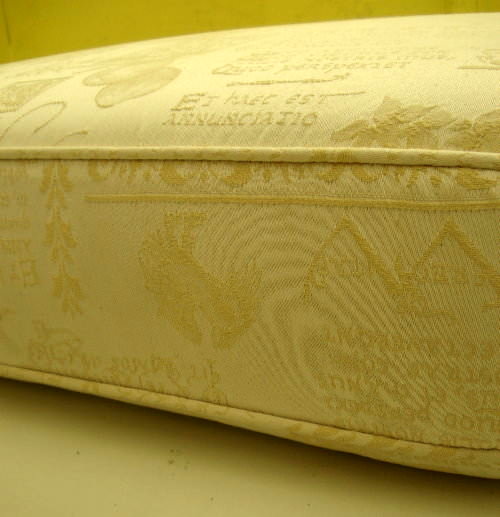 This picture of the border of the cushion shows you just how much higher the cushion is in the centre than at the edge. Also the border is nicely filled out and not baggy.
If you feel confident that we can achieve this for your cushions from your measurements then get a quote now. If you don't feel that confident then post us your covers and we will do all the work for you.
Many of today's sofa cushions are much larger than a sofa cushion used to traditionally be and may require 'extra doming', read our article about this style of replacement cushion for today's large sofa cushions.