Doming Replacement Sofa Cushions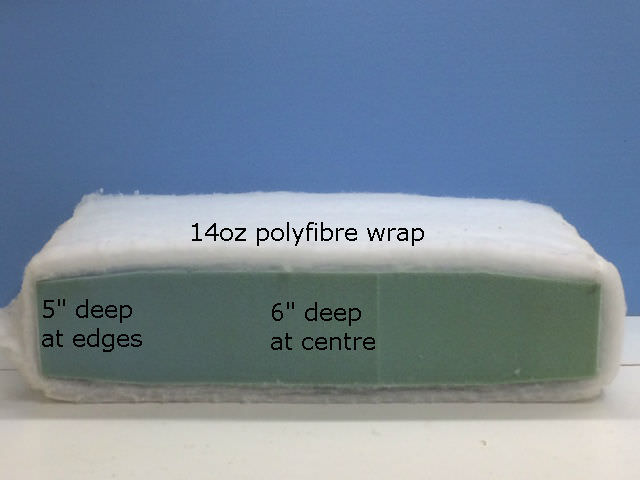 When we first started making replacement sofa cushions a standard sofa had three cushions on it and they were 22" x 20" x 4". In fact this was such a popular size with sofa manufacturers we used to make them in advance of orders. However in recent years sofa designs have changed dramatically. We now experience a wide range of sizes and now we find that probably the most common cushion size we come across is 30" x 26" x 5" and it is not rare for us to have cushions 40" x 30" in for replacement inners.
Replacing Sofa Cushions
If you have read any of our other articles about replacing sofa cushions you will already know that you just can't put in a block of foam the size of the cover. The cushion inner wants to be bigger than the cover. The most common and popular way of achieving this is to put a polyester fibre wrap on the foam. We use a heavyweight (14oz) polyester fibre to achieve the maximum effect. Our polyester fibre is about 1.5"/4cm thick and on a traditional sized sofa cushion (22" x 20" x 4") that is more than sufficient to create a domed effect on the cushion. We do find though that with today's bigger cushions that they require 'extra doming'
How we achieve this 'extra doming' is to cut the cushion core from a block of foam that is deeper than the side seam of the cushion cover. The most popular depth of cushion we see today is 5"/12.5cm. We then cut a block of foam 6"/15cm deep and bevel the edges of that block so that it is 5"/12.5cm at that point. We now have a cushion that is 6" deep at the centre and 5" deep at the edges. The next stage is to wrap the foam core with our heavyweight polyester fibre, this will puff the cushion up even more in the centre and will smooth off the edges where the bevel has been cut to create a nice domed effect cushion.
The advantage of using a domed foam core is that it will keep the domed effect. Polyester fibre (even our heavyweight 14oz variety) will compress and flatten off with time but the fact that we have overfilled the cushion with extra foam ensures that the cushion will keep a puffed up look for many years.
We do not suggest having this 'extra doming' on cushions that are not particularly large but for today's modern large sofa cushions it is almost a necessity. It can be difficult for the general public to gauge what size to then order the foam, so you may just wish to post us your covers for a no obligation quote.
If you want to order extra domed cushions online, here is our guide;
Measure the length and width of your cover (along the edges, not at the centre), do not stretch the cover.
Measure the depth of the side seam and give it a good stretch, it will most likely be 4", 5" or 6". Phone us if it is in between or greater than those sizes.
Choose your grade of foam - medium and high/firm are both firm base cushions whilst the soft and RX Flex grades make for a softer cushion that you sink in to more but does not require puffing up after you get off the cushion.
Alternatively, just post us your covers to our office address - Jordans (Leamington Spa) llp, 14 High St, Leamington Spa, CV31 3AN for a no obligation quote.
You can call us (01926) 832775 or alternatively you can email us foam@jordansretail.co.uk for more information.